South China Sea
The South China Sea is a marginal sea(Sea of Islands), that is part of the Pacific Ocean.
It is surrounded by littoral states China, Vietnam, Malaysia, Singapore, Brunei, Philippines and Taiwan.
Strait of Malacca connects South China Sea with Indian Ocean while Formosa strait connects South China Sea with East China Sea.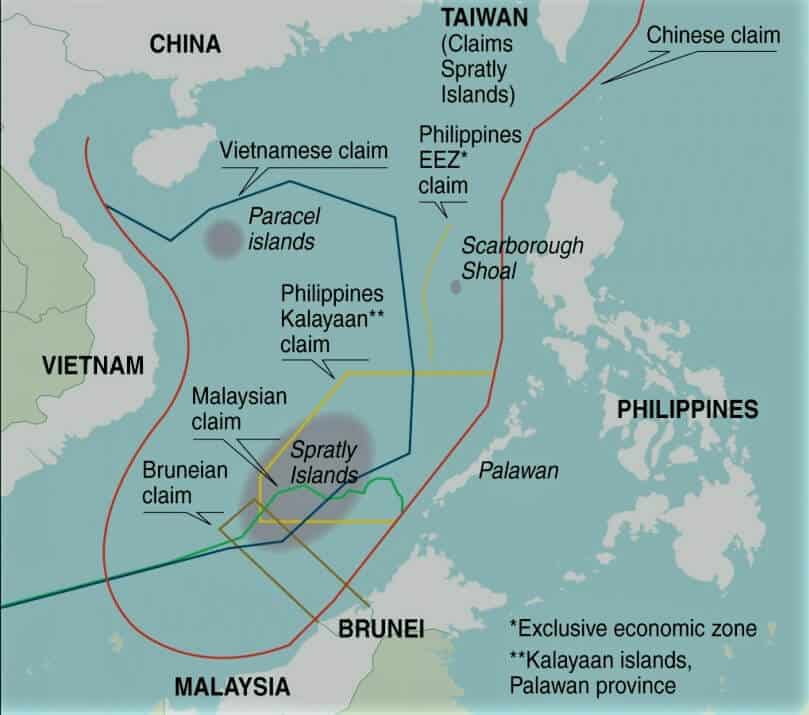 South China Sea and ASEAN
Economies of South East Asian countries heavily depend on ports and free movement of goods and services through trade lanes in South China Sea.
One-third of the world's shipping passes through South China Sea, carrying over $3 trillion in trade each year.
South China Sea has large reserves of oil and natural gas, fisheries, sea products and other minerals. All the littoral countries of this Sea wants to explore these reserves for economic development.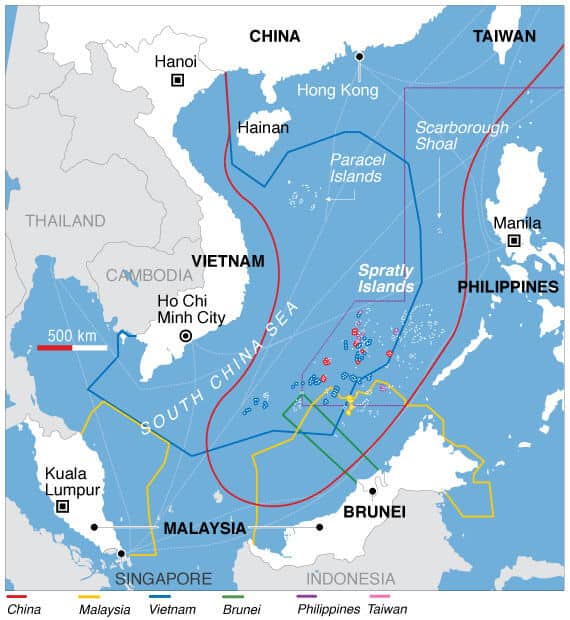 USA and Development of Region
United States thinks highly of maritime predominance, freedom of navigation, and security commitments to regional states in South East Asia.
American military presence has afforded ASEAN countries the opportunity to pursue economic prosperity without substantial increases in their own defence expenditures.
The Indo-Pacific has prospered under United States hegemony for the earlier 40 years.
USA invested $328.8 billion in the Association of Southeast Asian Nations (ASEAN) in year 2017 alone.
No group of nations has benefitted more from the presence of the US in the region than the ASEAN.
Nine Dash Lines
The nine-dash line refers to the undefined, vaguely located, demarcation line used by China for their claims of the major part of the South China Sea.
The contested area in the South China Sea includes the Paracel Islands, the Spratly Islands, Pratas Islands, the Macclesfield Bank and the Scarborough Shoal.
The claim encompasses the area of Mainland China's land reclamation known as the "Great Wall of Sand"
China's Claims over South China Sea
China advances its claims base on the argument that the SCS and the islands within this body of water have been in the Chinese possession for centuries dating back as far as the Han Dynasty in the Second Century AD.
Recently Vietnam, Indonesia and Malaysia have approached the UN expressing that China has no legal basis for the nine-dashed line region.
The alleged historical claims over South China Sea are not centuries old: they only go back to 1947. China uses fabricated 'evidences of history' as a tool for grabbing this region.
Chinese Aggression and ASEAN Economies
In the first half of 2020, Chinese naval forces have rammed a Vietnamese fishing boat, buzzed a Philippines naval vessel and harassed a Malaysian oil drilling operation all within their respective EEZs.
At the same time, ASEAN overtook the European Union to become China's largest trading partner in the first quarter of 2020, and China is the third-largest investor ($150 billion) in ASEAN.
ASEAN countries need China especially in a post-COVID world where they are struggling to revive their economies.
ASEAN and US-China Rivalry
China is presenting a binary choice to Southeast Asia to choose between China and USA amid trade war between these countries.
China is also aiming to create a sphere of influence through economic statecraft and military modernization.
ASEAN Expectation with India
While strategic partnerships and high-level engagements are important, ASEAN expects long-lasting commitments from India in the future.
ASEAN wants to collectively encourage an increasingly powerful China to pursue strategic interests in a legitimate way, and on the basis of respect for international law, in the South China Sea, by involvement of India in Indo-Pacific affairs.
ASEAN nations have taken the initiative time and again to involve India in Indo-Pacific affairs.
India's Interests in South China Sea
Sea-lane through South China Sea has been of great importance for India, for communication since the very beginning, and passage has been unimpeded over the centuries.
India has historical rights established by practice and tradition to traverse the South China Sea without impediment.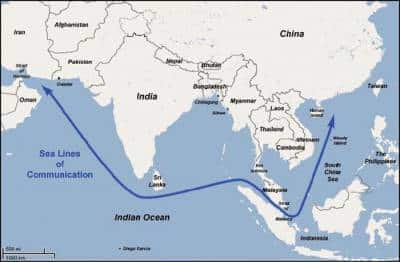 Nearly $200 billion of India's trade passes through the South China Sea.
Thousands of Indian citizens study, work and invest in ASEAN, China, Japan and the Republic of Korea.
Security and safety of Indian Diaspora and their investment in South China Sea region and East Asia is responsibility of Indian state.
India have high stakes in the peace and security of this region in common with others who reside there, and freedom of navigation, as well as other normal activities with friendly countries, are essential for India's economic well-being