Highlights
India's first solar powered and A low-cost, eco-friendly passenger ferry, Aditya has won the prestigious the Gustave Trouve Award for Excellence in Electric Boats and Boating. The solar powered and ferry was adjudged the world's best electric boat in the category of ferries designed for paid passenger service.
Over 10 thousand people globally voted to choose solar boats they considered the best from amongst 50 ferries from Europe, the United States of America, and Singapore.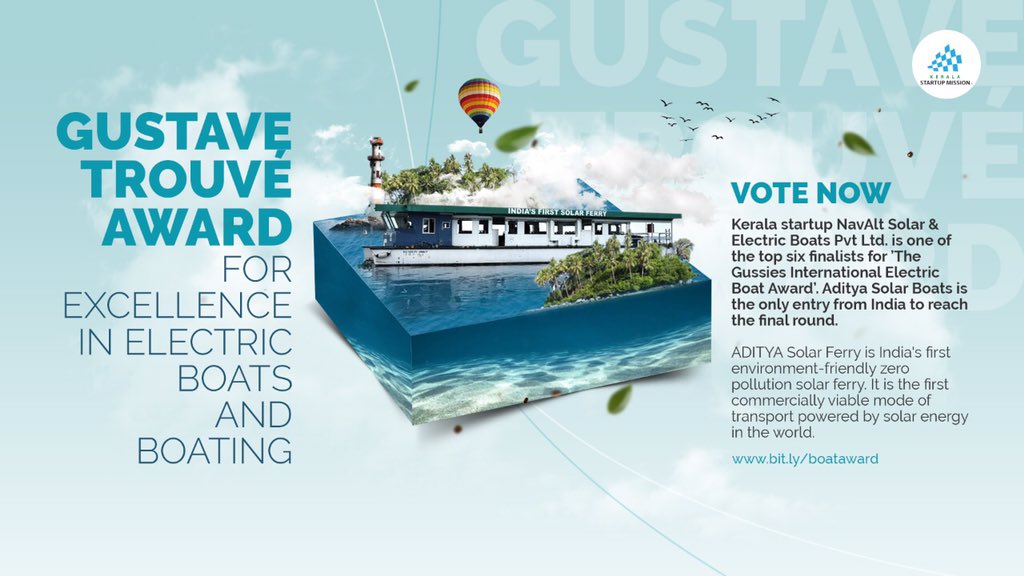 Aditya
Solar ferry, The Aditya, from Navalt Boats is one of the great stories of the future of electric marine propulsion. The Solar ferry belongs to the Kerala State Water Transport Department (governmental department Founded in 1968 ). ferry use the Vaikkom-Thavanakkadavu route in Alappuzha district in Kerala.
Gustave Trouve Award
Gustave Trouve award, announced for the first time globally. This Award only for individuals and companies building and innovating in teh field of the art electric boats. It was released first time in 2020, in honour of Frenchman Gustave Trouve for his groundbreaking work in mobility based on electric transport, moving away from conventional fossil fuels.
Aditya wins Gustave Trouve Award Aditya wins Gustave Trouve Award